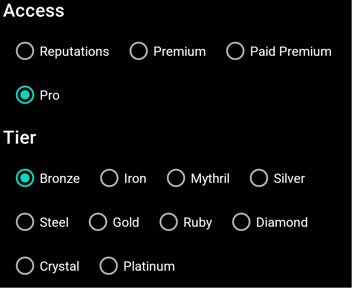 In 1.4.0+ you can set the macro access type to Pro.
In this mode users must pay a one time fee to unlock the macro.
You will receive a percentage of the sale. That's monetization in a nutshell.
Tier of the macro will decide the price: Bronze ($0.99), Iron ($1.99), Mythril ($2.99), Silver ($4.99), Steel ($6.99), Gold ($9.99), Ruby ($14.99), Diamond ($19.99), Crystal ($29.99), Platinum ($49.99)
Before continuing, make sure to read and understand the Terms and Conditions and Community Guidelines.
Developers can implement their monetization strategy however they like as long as it follows the Store's policies and terms.
But here are some of our advices that can steer you in the right direction:
Free version can be limitted by time or features but not both. If you limit features by time then all features should be available. If features can be ran without limit then there's a good chance that you can add some more cool features.
Not all macros can be monetized. Sometimes releasing a completely simple and free macro is a good way to build user base.
This section will layout the exact steps that you need to take:
Create at least 2 versions of your macro (Free and Pro). Make Use Flavor.
Test both version. Use this as your guidelines.
Upload your Free version. Your description must clearly state that this is a Free version with Pro version as a way to support the development of the macro and it must also clearly list out all the possible limitations of said version.
Upload your Pro version. Your description must include the benefits of the Pro version.
Your macros will be assigned to at least 2 testers. You must provide an Account if requested to allow the testers to fully test the macro's features.
Work with the testers to weed out all the bugs and performance issues.
Once this is done, your macros will be featured on the Store.
You will receive a Sale Report of last month sales in the 20th of the next month (Sale Report of May will arrive on June 20th).
You will get paid on the 1st of the next month if the amount is at least $50.